Sabe, ao longo dos anos me tornei um gamer muito impaciente. Enquanto o meu irmão pega o videogame e passa horas virando os jogos pelo avesso, tentando localizar as áreas secretas, coletando itens escondidos e tal, eu geralmente não consigo passar mais de 30 minutos jogando. Nem entendo por que, mas sei que depende muito do estilo do jogo. Não tenho saco, por exemplo, pra jogos estilo adventure/survival horror, em que você tem que achar peças e montar um quebra-cabeça pra desvendar a trama que move a história do jogo. Nah, isso não é pra mim. No passado adorei jogos como Full Throttle e Day of the Tentacle, mas hoje meu negócio é correr e dar tiros. E só. Eu gostaria de poder culpar a idade, dizer algo como "com o passar do tempo, nossos gostos mudam, blá blá blá", mas sei que sempre fui muito difícil de agradar em matéria de jogos. Mesmo atualmente, meus jogos favoritos não ficam no PS2 por mais de uma hora.
Talvez por causa disso eu nunca me dei ao trabalho de chegar ao fim da maioria dos jogos que passaram pelas minhas mãos. Não me comprometo aos meus jogos; e eles sabem bem disso. Pego-os por aí, me divirto por alguns momentos com eles, e descarto assim que consigo pôr minhas mãos em algum que me divirta por mais tempo. Sou um cafageste mesmo. Ou seria cafajeste? Tou com preguiça demais de fazer uma pesquisa no Google pra descobrir, deixo esse trabalho a encargo de vocês.
Mas então. Por causa desse descomprometimento, muito raramente na minha vida consegui zerar os jogos que já tive. Assim sendo, consigo lembrar de cabeça todos os (poucos) jogos que conseguiram me prender prender um pouco mais do que os costumeiros trinta minutos.
Aí vai a lista dos jogos que zerei (ou finalizei, ou virei, ou fechei, a expressão varia dependendo da região onde você mora):
Super Mario World
Super Mario World não é apenas um jogo, é uma viagem lisérgica por um fantástico mundo de tartarugas e encanadores, é um ícone de uma geração. O maior crássico de todos os tempos, SMW é praticamente um sinônimo de SNES – poucas pessoas tinham apenas um ou outro, a grande maioria tinha ambos. Que outro jogo pode se orgulhar em ter sido lançado em 1991 mas ainda ser jogado até hoje, por fãs que permaneceram fiéis ao jogo a despeito de dispor de videogames bem melhores? Se você não zerou essa pérola, você não é gente.
Abuse
Um jogo bastante underground que conheci nos tempos de colegial, ainda como shareware. A pirataria online me presenteou anos depois com a versão completa. Foi o primeiro jogo em que se usava a dobradinha mouse-teclado pra mirar e andar por aí. Aliás, corrijo-me: havia outros jogos antigos que permitiam isso (Quake, Descent e Doom), mas o uso do mouse não era
fundamental,
era uma opção fedorenta que
NINGUÉM
usava. Na época, foi considerado altamente inovador por uns, e extremamente frustrante por outros. Os poucos que se deram ao trabalho de se acostumar com o estranho controle foram agraciados com um dos jogos mais alucinantes já lançados pro PC. A história era bem simples: você é um prisioneiro numa super penitenciária futurista subterrânea. Cientistas liberaram sem querer um vírus mutante no suprimento de água da cadeia gigante, e esse microorganismo transformou os outros presidiários em monstros bastante parecidos com os aliens do filme de mesmo nome.O jogo tinha um ritmo muito rápido, era atira-corre-pega arma-joga granadas-corre-pula-atira de novo naquele alien que ainda não morreu. O mouse trazia uma inovação de jogabilidade que não era compartilhada por nenhum outro jogo na época, e que imprimia uma velocidade incomparável ao jogo.
E mal sabíamos que aquele complicado sistema de controle se tornaria padrão no futuro.
Era MUITO foda aquele jogo. Os gráficos eram bastante detalhados para aquela época, e a ação se desencadeava em velocidade terminal. Era o tipo de jogo que dava gosto de jogar.
Bateu uma nostalgia violenta aqui. Assim que terminar esse post vou jogar de novo.
Ah, e Abuse era difícil PRA CARALHO. É um daqueles jogos que você e surpreende por ter zerado.
Command & Conquer Tiberian Dawn
O primeirão da eterna série C&C, que tem um lugar reservado no coração de todo gamer de bom gosto. Command & Conquer entrou na minha vida num CD da paleozóica Revista do CD-ROM, que muitos aí devem ter comprado também (eu praticamente colecionava aquela porra). O jogo veio em forma de um demo de 40 mega que eu considerei na época grande demais pra instalar no meu PC. Pensei "
não devo estar perdendo muita coisa
", me conformando com uma regra estabelecida por meu pai (que vetava instalar jogos que ocupassem mais de dez mega).Semanas mais tarde, fui visitar meus primos, e os vi jogando C&C. Foi amor a primeira vista. Eu nunca tinha visto um jogo de estratégia em tempo real antes, a idéia de construir uma base e organizar um exército era novidade pra mim. Comprei o jogo completo quase 5 anos mais tarde, quando saiu completo na CD Expert. Meus jogos completos, como muitos outros esmoléus, eram ou de revistas, ou de sites warez.
Command & Conquer Red Alert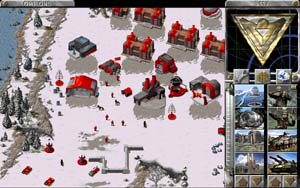 Não confundir com C&C 2, algo que acontecia direto na época que o jogo foi lançado. Neguim dizia "
olha só, tenho Command & Conquer 2!
", eu dizia "
Impossível, o jogo nem foi lançado ainda
". Aí o moleque falava "
Mas eu tenho, vou trazer amanhã na escola pra você ver
". Sem dúvida, tava lá ele no outro dia com a caixa do Red Alert. C&C: RA é uma espécie de universo expandido de Command & Conquer, não exatamente uma continuação. Eu particularmente achava – ou melhor, ainda acho – melhor que o C&C original.
Magical Quest featuring Mickey Mouse
Boiola é aquele corno do seu pai. Engula seu preconceito. Magical Quest foi, apesar da temática meio infantil, um dos melhores jogos de plataforma que houve pro Super Nintendo. A jogabilidade era simples e viciante, havia bastante mundos com muitas características diferentes, e trajes especiais conferiam ao Mickey (ou Minnie) divertidas habilidades especiais. Lembro-me que eu tava de saída pra uma viagem de família e meu pai tinha me dado a incrível soma de
DEZ REAIS
(a maior quantia que passou pelas minhas mãos quando eu tinha 12 anos) pra dividir com o Trunks. Sem pensar duas vezes, fomos pra locadora e torramos o dinheiro inteiro jogando Magical Quest. Fomos os únicos moleques do bairro a zerar um jogo na locador, e a proeza demodou umas 6 horas. Teria sido mais rápido se não tivéssemos brigado durante meia hora pela escolha do personagem – ninguém queria ser a Minnie.Tou zerando de novo no emulador, e empaquei no último chefão.
Turn and Burn – No Fly Zone
Um dos poucos simuladores de vôo que havia pro SNES, e era considerado na época o melhor – a disputa era entre Turn and Burn e Afterburner, do Mega Drive. Turn and Burn foi comprado pelo meu pai, que curte jogos mais "técnicos", mas ele acabou
nunca
jogando. Na época era considerado um jogo muito foda, hoje parece uma piada de mau gosto. Ao contrário de alguns gêneros que permanecem jogáveis milênios após seu lançamento (como jogos de plataforma), simuladores de vôo parecem implorar por gráficos de no mínimo 64 bits. Não sei como tive paciência de zerar esse jogo; baixei a ROM outro dia e desisti de jogar segundos após a decolagem. A caixa do jogo prometia suporte a dois jogadores, uma mentira sem vergonha.
Super Star Wars The Return of the Jedi
Um dos melhores jogos de Star Wars já lançado – eu diria que perde apenas pra Star Wars Battlefront -, e sem dúvida um dos mais difíceis jogos do SNES. Sinceramente, não sei como finalizei essa porra. Atualmente, mesmo com todas as safadezas como gamepad com função turbo e um emulador que permite salvar meu progresso a cada 3 segundos, tou apanhando pra uns chefões lá pela sexta fase. Se você nunca assistiu o filme, basta jogar essa pérola: o game conta a história de O Retorno de Jedi, o Episódio VI que na verdade era III até que o real Episódio III foi lançado. O jogo capta com perfeição a ambientação, os heróis e os vilões do filme, com a adição de um monte de inimigos que nunca apareceram na série e existem apenas na imaginação dos programadores da LucasArts. E sim, você luta contra o Darth Vader. Com sabre de luz e tudo, ai ai.
MDK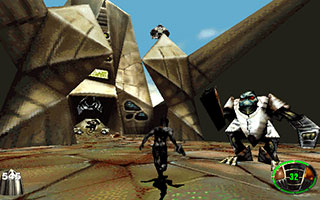 Excelente
jogo de tiro em terceira pessoa. Não lembro direito sobre o que se tratava a história, era algo envolvendo alienígenas estranhões que queriam destruir a Terra e algo assim. Foi o único jogo que realizou minha fantasia de pular de pára-quedas. Os gráficos, na época, eram inacreditavelmente avançados. Porra, bateu uma saudade tão grande que tá me dando vontade de ir correndo numa loja de jogos aqui perto e comprar MDK 2 pro PS2. É só sete dólares. Volto já.(Fui e voltei antes de continuar o post. No fim das contas, o jogo custou apenas 6 dólares.
E tenho uma sorte do caralho. Quando cheguei na loja, me dei conta de que a carteira não estava mais no meu bolso. Voltei correndo como alguém que acabou de fugir da cadeira elétrica (um caminho de um quilômetro e meio) e lá estava a carteira, no MEIO da rua, semi aberta. A carteira se apoiava em pé por causa da formação em V que a abertura provocou. Apressei o passo e apanhei o troço. Meus 50 dólares permaneciam lá dentro, junto com todos os meus cartões.
Esse MDK 2 quase custou muito caro)
The Dig
Dispensa qualquer comentário. Considerar o jogo qualquer coisa abaixo de uma obra de arte seria sacrilégio. The Dig representou o ápice da hegemonia da LucasArts como monopolizadora do estilo adventure – um estilo que teve uma morte um tanto quanto prematura, na minha opinião.
Full Throttle
Idem. Full Throttle adquiriu uma popularidade um tanto quanto maior que The Dig. Acho que isso se deve ao fato de que ele vinha num CD junto com umas Sound Blasters mais antigas. Já The Dig, apesar de um clássico de mesma importância, era um pouco mais difícil de achar.
Enter the Matrix
Enter the Matrix foi o único jogo com mais de 32 bits que zerei na vida. O jogo expande de forma inteligente o universo da trilogia, mas o resultado que poderia ter sido extraordinário acabou sendo uma bela vergonha pra franquia Matrix. O jogo exibe alguns defeitos aleijantes que dão indícios de que ele foi empurrado pro departamento de vendas um tanto quanto apressadamente. O que é até um tanto quanto compreensível: o jogo conta a história entre Matrix e Matrix Reloaded, então precisava ser lançado algum tempo antes do segundo filme.Explica, mas não justifica. Nem mesmo pra um fã incondicional da série o jogo desce na garganta. Os detalhes gráficos, em especial os gráficos das cutscenes, são desgraçadamente mal-desenhados. As texturas são quase inexistentes, o sistema de colisão parece ter sido programado pelo Steve Wonder: socos atravessam paredes, mas não da forma legal que você vê nos filmes. Você dá um murro, aí sua mão desaparece dentro da parede, como se tivesse sido engolida por ela.
Os problemas não param nos gráficos. O jogo é muito curto e acaba muito abruptamente, algumas fases são extremamente tediosas e, apesar de ter finais diferentes, não vale a pena jogar de novo depois que você zera pela primeira vez.
Earthworm Jim 2
Mais um clássico das plataformas no SNES – algo natural, levando em consideração que jogos em 2D estavam quase sempre limitados a esse estilo de jogo. O jogo estrelava Jim, uma minhoca que um dia achou um traje espacial que lhe confere uma porrada de habilidades especiais. A jobagilidade era boa, os inimigos eram criativos e engraçados, e as fases mostravam um universo meio onírico muito doido. Um outro grande destaque desse jogo foi, na minha opinião, a trilha sonora. Era ducaraio.Um currículo vergonhoso, sou o primeiro a dizer. Meu irmão deve ter finalizado pelo menos o dobro desses jogos. Aposto que vocês aí não conseguem lembrar de cabeça os jogos que zeraram.
Deixe sua opinião aí. Você não tá fazendo nada mesmo!
comments