Tomaram notas, pesaram custos e benefícios, checaram a carteira e linkaram a resenha pra amigos que têm vontade de pegar um PSP?
Beleza. Agora é a vez do DS.
Lá por meios de 2002 ou 2003, a Nintendo pensou com seus botões "sabe duma coisa? O mercado gamer tá estagnado de novo. Vamos revolucionar essa porra". Não seria a primeira vez que a Nintendo apareceria pra trazer ares de renovação à indústria de videogames (crash de 83, anyone?).
Foi com essa filosofia em mente que a Nintendo revelou o codinome do seu console de nova geração, o Nintendo Revolution. Quando a empresa abandonou o codinome promissor em troca do totalmente simples "Wii", nerds ao redor do mundo sentiram um chute nos bagos. Fóruns ao redor da internet pipocavam com reclamações furiosas, era como se o novo nome fosse uma ofensa pessoal contra certos gamers que insistiam que a Nintendo largasse mão de apostar no mercado infantojuvenil. Hoje é "Revolution" que parece estranho, arcaico. Faz alusão à época quando nem sabíamos nada sobre o console. Mas divago.
Numa época em que as empresas rivais trocavam tapas metafóricos divulgando as especificações bombadíssimas de seus futuros consoles dando ereções massivas em nerds ao redor do globo, a Nintendo foi totalmente contra a maré anunciando que as capacidades gráficas do Wii seriam aproximadamente equivalentes às do GameCube. O tesão foi cortado de imediato, até que a Nintendo revelou o estranhíssimo Wiimote, o controle do Wii. Aí mesmo é que as profecias de fim da Nintendo começaram a ganhar força. Mas a empresa continuo firme e forte na mentalidade de provocar mudanças na indústria que não via nenhuma grande revolução desde 1983.
O DS foi um fruto da mesmíssima corrente de pensamento. Com exceção do Tapwave Zodiac, um aparelho totalmente obscuro que só mesmo nerds de handhelds conheceram – e apenas por fotos na internet, porque o troço é raro mesmo -, o DS foi o primeiro console portátil com input por toque. A animação diante das novas possibilidades foi rapidamente eclipsada pelo concorrente PSP, que exibia hardware muito mais potente e trazia junto com a sua estréia a marca Playstation, as franquias correspondentes e funcionalidades que transcendiam o objetivo de um simples ideogame portátil. A Nintendo humildemente reconhecia que sua máquina era menos capaz, mas enfatizava que o público e o propósito do DS eram outros. E a turminha de videntes continuava a pregar a morte da Nintendo.
Poucos meses depois, O DS é liberado ao mundo. E quando o número de DSs vendidos ao redor do mundo ultrapassava o de PSPs numa proporção de quatro pra um, a turma de mães Dinás perceberam que suas previsões falharam completamente.
Como é que uma máquina com hardware inferior e muito menos funções que seu concorrente direto consegue lavar o chão com a cara da competição? A vitória do PSP parecia uma aposta tão fácil, tanto é que este que vos escreve chegou, em certo período, a ridicularizar a premissa do DS e economizar centavinhos pra adquirir um PSP.
O texto já tá ficando bem longo até agora, e eu nem comecei a falar do DS ainda. Isso se deve ao fato de que, por mais paradoxal que isso possa soar de início, não há muito pra se falar do DS. Na resenha do PSP eu falei sobre o navegador, sobre o mp3 player, sobre o suporte a imagens, sobre os disquinhos UMD e tudo mais. O DS não tem nada disso, é um puro e simples videogame. Por causa disso mesmo era necessário colocar mais conteúdo no artigo, e nada melhor do que explicar justamente POR QUE o DS é um aparelho mais simples do que o da concorrente. E aí está, resumido em uma frase – O DS não precisa de nenhuma dessas funções extras pra vender porque ele é um videogame do caralho.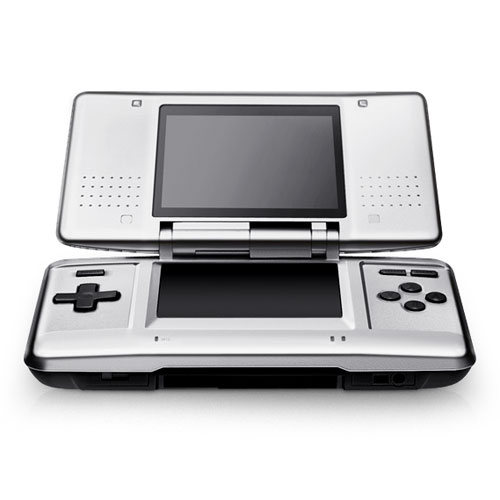 Tecnicamente falando, o DS é aproximadamente equivalente ao N64. Usa mídia em formato de cartucho, não trabalha muito bem com texturas e por causa disso oferece gráficos meio medíocres, e ambos foram lançados com Super Mario 64. O detalhe principal do Nintendo DS é a sua tela inferior, que é sensível ao toque. Graças a isso, gamers tiveram a oportunidade de experimentar jogabilidades realmente criativas, como a de Kirby's Canvas Curse (onde o jogador desenha linhas na tela, que se materializam no jogo e servem de apoio pro personagem principal), Trauma Center (um simulador de cirurgias muitíssimo criativo) e Elite Beat Agents, que é o equivalente portátil de Pump It Up.E é aí que você compreende o porquê do sucesso estrondoso do DS – enquanto o PSP tentou enfiar tudo de melhor que fosse possível caber no chassi do console e traduzir pra telinha portátil os maiores sucessos do seu irmão-console mais velho, a Nintendo ofereceu inovação. Claro que há uns Super Mario 64 aqui, Star Foxes ali e Castlevanias acolá, mas o que realmente leva o DS ao topo da lista de consoles mais vendidos são os jogos nunca antes vistos e extremamente criativos.
Claro, não só de novidade vive o console da Nintendo. Trabalhar em cima de clássicos do passado dá certo pra cacete também, quando feito com competência. Lembra dos adventures point and click, que fizeram da Lucasarts uma empresa bastante conhecida no meios dos anos 90 e nos deram clássicos inesquecíveis como The Dig, The Day of the Tentacle e Full Throttle? Então, todos achávamos que o estilo estava morto e enterrado. O gênero de aventura e exporação não apenas retornou, mas o fez no que anos atrás acharíamos a plataforma menos provável pro sucesso do estilo de jogo – um console portátil. Graças à tela de toque, as gamehouses puderam reviver o formato point and click. E já há bastante títulos praqueles que se amarram nesse tipo de jogo, como a série Phoenix Wright (que estou jogando no momento), Hotel Dusk e Lost in Blue.
Saudosismo move a indústria de games; não é a toa que volta e meia temos coletâneas de jogos antigos vendendo pra tudo quanto é console. Pensando nisso – e no hardware único do DS -, empresas começaram a trazer do passado clássicos absolutos que não poderiam ser feitos com competência em nenhum outro console – estou falando dos jogos de estratégia. Donos de DS já podem se divertir com SimCity, Theme Park e, é claro, Settlers. Se você é como eu e passou HORAS e HORAS quando moleque construindo cidades, parques de diversões ou vilas medievais em Pentiums 133 dez anos atrás, esse parágrafo aqui (mais do que qualquer outro) já deve estar te dando coceira na carteira.
E talvez você esteja mesmo morrendo de vontade de põr as mãos em um DS. Talvez até mesmo antes deste texto você já tinha essa vontade, mas esbarrava de cara com a dúvida que aflige a mente perturbada do gamer com orçamento baixo – DS original, ou DS Lite? Resposta curta – DS Lite, caso você goste de ver o que está acontecendo na tela com nitidez e clareza. Os mais brutos (ou seja, os que já compraram o DS original e precisam adotar pose de desdém em relação ao modelo claramente superior) podem até dizer que "é tudo a mesma coisa", mas não é. Case in point:
A diferença mais relevante é a claridade e nitidez das telas. As do DS Lite são obviamente muito mais claras e nítidas do que as do modelo antigo, que em comparação parecem até estar com algum tipo de defeito. Eu
GARANTO
que você jamais será capaz de jogar num DS antigo após se acostumar com um Lite. Aliás, boa parte do motivação em comprar o Lite foram as jogatinas no DS Lite do meu irmão. O resto, obviamente, se deve a Settlers.O DS Lite é também bem menor e mais bonito que seu irmão mais velho. Alguns dizem que isso é detalhe bobo, com razão, mas quer saber? Eu sou um nerd superficial. E eu quero que meus consoles sejam estilisticamente atraentes. Aliás, não devo ser o único, senão a linha iPod não venderia tanto.
Os botões do DS Lite são mais responsivos por serem um pouco mais elevados do que os do DS original, dando a você uma resposta mais clara quando você os pressiona. O D-Pad do DS Lite é claramente superior, assim como a posição dos botões Power, Start e Select. Não sei o que a Nintendo estava pensando ao pôr esses botões tão próximos a outros que são usados o tempo todo durante os jogos, dando bastante oportunidades de acidentes, mas sei que alguém acordou pra realidade e mudou-os de lugar quando projetaram o Lite. A stylus do DS Lite é também mais grossa, o que deixa mais fácil e confortável de segurar, e o silo desta se localiza do lado da unidade, ao invés de atrás. Ou seja, é mais fácil puxar a canetinha pra fora durante os jogos, já que ela agora não fica obstruída pela tela superior do console.

Se liga na diferença de tamanho
Os LEDS que indicam que o DS está em uso tinham uma posição horrível na versão original; quando a tela superior está fechada, as luzinhas ficam semi escondidas. Ou seja, não é exatamente muito funcional ou bonito, dá idéia de um design desastrado, que não pensou em todas as possibilidades. A conexão entre a tela superior e inferior é meio estranha no DS antigo, parece que o troço pode quebrar a qualquer safanão. O DS Lite parece muito mais resistente. O microfone embutido do portátil foi movido do canto interior direito pro meio das telas, o que muitos concordam ser uma posição que faz mais sentido.Admito, boa parte desses detalhes podem até passar batidos ou serem ignorados em prol da economia de, sei lá, uns cinquenta reais? Mas olhe novamente pra foto que compara a diferença de claridade entre os dois modelos. Você
REALMENTE
quer ver seus jogos daquela forma? Não vale a pena. Pode confiar em mim,
não vale a pena
. Tanto acredito nessa opinião que comprei um Lite apesar de possuir um DS original que funciona perfeitamente. Sério mesmo moçada, em comparação com o Lite, o DS original mais parece uma versão beta do console, aqueles protótipos que aparecem na E3 anos antes do console de verdade aparecer em prateleiras.
Assim como o PSP, o DS também possui um rádio wifi pra comunicação sem fio. A lista de jogos online do DS é consideravelmente menor do que a do PSP, mas esse número está aumentando paulatinamente com lançamentos de jogos que há anos imploravam por modos online, como o favoritíssimo Pokemon, em sabores Diamond ou Pearl.
E chegamos aos jogos, o que é o ponto principal da aparente preferência mundial pelo DS. Se eu fosse mini-resenhar todos os excelentes jogos que já estão disponíveis pro DS esse post dobraria de tamanho, então vou me ater a poucos. Pelo amor de deus não me encham o saco perguntando "cadê aquele jogo X sensacional que ganhou nota 40 na Famitsu?!?!?!?11111". Não estou "esquecendo" nenhum jogo, estou propositalmente deixando a lista pequena por motivos de concisão e preguiça.
Elite Beat Agents
Como falei antes, EBA é como uma versão portátil de Pump It Up. Ao invés de passos desajeitados na frente de estranhos no shopping, você segue círculos e linhas na tela sensível a toque, de acordo com a batida da música. O jogo tem, sei lá, umas 40 músicas que abrangem tudo quando é gosto musical, desde Rolling Stones até Jamiroquai, passando por Madonna e Avril Lavigne. Apesar de boa parte delas ser de gosto musical duvidoso, o jogo é
muito
viciante. Só tenha o cuidado de usar fones de ouvido na fase com a música da Avril Lavigne, caso você esteja jogando num local público. Ou você correrá o risco de pensarem que você gosta da cantora.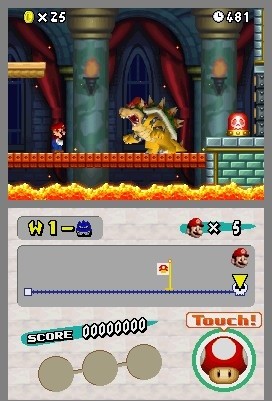 New Super Mario Brothers
Uns trocentos anos após Super Mario Brothers dar as caras no Nintendinho, o encanador italiano mas na verdade japonês aparece em uma nova aventura 2D, trazendo de volta todos aqueles elementos surreais familiares que a gente cresceu vendo – canos, plantas piranhas, cogumelos, tartarugas goombas, etc e o caralho. A diferença é que é tudo 3D bonitinho agora, mas no formato de plataforma 2D que eu imaginava que Super Mario 64 seria. O jogo é uma revisitação totalmente foda do universo Mario Brothers, e é de compra obrigatória pra qualquer dono de DS. Especialmente pra mim, por motivos dolorosamente óbvios.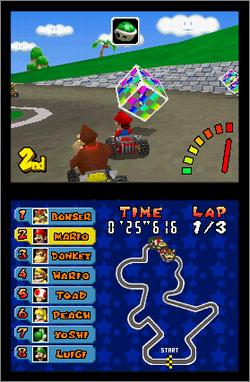 Mario Kart DS
Mario Kart é uma série que foi sucesso em todo console que apareceu. Deu certo no SNES, deu certo no N64, deu certo no GameCube, deu certo no GBA. Parece impossível esculhambar a fórmula, e a versão do DS confirma a tradição. Além de compilar pistas de
TODOS
os jogos da série, Mario Kart DS oferece uma porrada de personagens e carrinhos destraváveis e um inédito modo online. Outra compra obrigatória, não tem pra onde escapar.
Tetris DS
E já que estamos falando de fórmulas inestragáveis, como não mencionar Tetris DS? O Tetris original catapultou o Game Boy pros bolsos e mochilas de milhares de moleques catarrentos no comecinho dos anos 90, e Tetris DS fez o mesmo pro novo portátil da Nintendo. Além de ser enfeitados com temas referentes aos clássicos da Nintendo (músicas remasterizadas de jogos clássicos por exemplo), Tetris DS oferece uma porrada de modo de jogo e gameplay online.Tetris
online
? É quase bom demais pra ser verdade, puta que pariu, vamos ser sinceros. Outra compra obrigatória.
(Talvez essa seja a hora de mencionar que a jogatina online do DS é totalmente de grátis, basta ter um router wireless que você já tá dentro da parada).
Clubhouse Games
Uma coletânea de
QUARENTA E DOIS
velhos mas eternos joguinhos como poker, boliche, dardos, sinuca, ludo, gamão, xadrez, damas… Ah, eu mencionei que cada um deles é jogável
online
?Diz aí, é ou não é fácil entender por que essa porra tá vendendo como água no deserto? Sinceridade mermão.
Trauma Center
Trauma Center é mais um daqueles joguinhos que, apesar de já terem existido no passado (uma jujuba pra quem lembrar de Life and Death 1 e 2), não poderiam ter renascido em nenhuma outra plataforma senão o DS. Basicamente, é um jogo em que você faz cirurgias em neguim. E um jogo extremamente desafiador, o que é compreensível porque você está fazendo cirurgias em neguim. Ainda não tivemos a oportunidade de ouvir a opinião do
DOC FHBD
(nosso médico/benfeitor residente do fórum) a respeito do realismo do jogo, mas tem sangue pra caralho e eu imagino que essa parte eles retrataram com fidelidade.
Settlers
(sem resenha porque o jogo ainda não foi lançado)
Settlers 2 portátil. Não sei se tá bom pra você, mas tá excelente pra mim. Há três jogos que foram jogados à exaustão durante minha infância e que formaram a pessoa que sou hoje – Super Mario World, Command and Conquer e Settlers. Dê uma olhada no layout desse blog; é fácil entender que qualquer jogo que participe do mesmo panteão que Super Mario World é alvo de minha devoção incondicional.Aliás, no dia que a Eletronic Arts tirar o dedo do cu e começar a trabalhar num Command and Conquer DS, acho que serei a primeira pessoa no mundo a morrer graças a um orgasmo. Cruzemos os dedos todos juntos.
Cooking Mama
Cooking Mama é um joguinho literalmente adorável. É basicamente uma porrada de minigames que simulam as etapas de preparação de dezenas de receitas. E todas seguidas à regra, ou seja, de repente até você aprende a fazer uma muqueca de camarão.Vou ser sincero e admitir que não é um daqueles jogaaaaaaaaaaaaaaços, mas é bastante viciante e é um bom exemplo do tipo de mercado que a Nintendo está tentando abocanhar – o mercado dos gamers casuais, do tipo que não sabe o que é Final Fantasy mas acharia o maior barato brincar de fazer comidinha na fila dos correios se tivesse a oportunidade. Só tome o cuidado de não deixar sua namorada ver o jogo, ou você nunca mais verá seu DS.
***


E vamos ficando por aqui. Há uma porrada de títulos que eu serei crucificado por não mencionar, como o remake de Final Fantasy 3, os dois novos episódios de Castlevania (Dawn of Sorrow e Portrait of Ruin, respectivamente), Zelda Phantom Hourglass (considerado pela mídia especializada como o melhor Zelda desde Ocarina of Time), o genial puzzle Meteos, e por aí vai. Bom, ao menos mencionei por alto agora.E vamos ao que interessa – a pirataria. Burlar direitos autorais com o DS nunca foi tão fácil – tendo posse do M3 Simply (um aparelhinho que custa míseros 50 dólares), a única coisa que você precisa fazer é jogar ROMs de DS num cartãozinho microSD e acabou-se a história. Como já mencionei, jogos de DS são absurdamente minúsculos, o que garante que você terá adquirido toda a coleção de jogos AAA+ em uma noite só.
Devo ter esquecido um monte de coisa, então donos de DSs sintam-se à vontade pra apontar meus erros.
Bom, agora você sabe tudo ou quase tudo sobre os consoles da nova geração. Qual você escolheria?
Deixe sua opinião aí. Você não tá fazendo nada mesmo!
comments